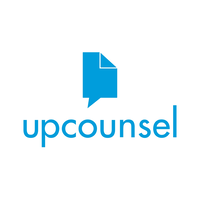 UpCounsel is an on-demand legal services platform that connects individuals, small businesses, and enterprises to a network of lawyers who can properly address their legal needs. Other services include document management, e-signatures, workflow management, as well as free legal documents, forms, and articles. Its pricing typically ranges from $125 to $350 per hour, and it works best for individuals setting up a small business.
UpCounsel Pros and Cons
| Pros | Cons |
| --- | --- |
| Roster of lawyers include top-tier attorneys | Limited customer support for users |
| Provides free legal forms and articles | No registered agent services |
| Flexible pricing options—fixed or per hour | |
Who UpCounsel Is Best For
Individuals setting up a small business: Individuals who want to form a new business can use UpCounsel to seek help in drafting initial business contracts. They can also utilize the platform to ensure that their business set-up complies with all legal standards and regulations.
Startups who want to manage their day-to-day legal needs: Startups who lack the capacity to hire a full-time legal counsel can use UpCounsel to look for attorneys who can manage their day-to-day needs. These services include patent and trademark filings, immigration issues, and even venture financing.
UpCounsel Pricing
UpCounsel's pricing is customized depending on a client's legal needs. The legal services provided may be billed either on an hourly basis (typically ranges from $125 to $350 per hour) or on a fixed rate basis (typically ranges from $500 to $4,000, depending on the service).
Services

Typical Pricing

Commercial Contracts

$125 to $250 per hour

Employment & HR

$175 to $275 per hour

General Counsel

$250 to $350 per hour

Business Formation

$500 to $1,000 fixed fee

Utility Patents

$1,000 to $5,000 fixed fee

Visas

$2,000 to $4,000 fixed fee

Trademarks

$600 to $800 fixed fee

Need legal documents and business formation filings fast. Check out IncFile.

Last updated on 03/30/2020
For individuals who simply want to consult with a lawyer in setting up their business, UpCounsel offers a 15-minute business formation consultation for $41 per consultation. It involves introducing the client to a qualified attorney for a short business consultation. A more comprehensive proposal may be sent after the initial meeting once the lawyer is given more information about the clients' needs.
In addition to lawyer fees, UpCounsel also charges its own platform fees. It has processing fees on top of filing fees and other expenses that the contracted attorney may charge.
Commercial Contract Consultation
Businesses can use UpCounsel to obtain advice from commercial attorneys regarding the contracts that they will enter into, which may involve drafting, negotiating, and reviewing legal agreements. Typical contracts include property and equipment leases, partnership agreements, non-disclosure agreements (NDAs), and employment contracts. Costs vary depending on the type and length of the contract.
Labor and HR
Businesses can tap employment lawyers hired through UpCounsel to outsource their specialized and general employment law needs. These services may include employee hirings, termination, employment agreements, employment handbooks, issuing stock options, and other similar concerns.
General Counsel
UpCounsel's general counsel services cover clients' day-to-day legal matters and provide ongoing advice. Its services include corporate maintenance, stock issuances and stock options, contract drafting and negotiations, basic employment, and intellectual property protection.
Business Formation and Structure
UpCounsel provides consultation services for those who want to set-up a new business. They are given advice on what kind of business structure is best suited for their goals and protection. Charges for business consultation and formation services depend on the nature of the entity to be established.
Patents and Trademarks
UpCounsel can also help anyone protect their inventions through patent and trademark applications. Patent lawyers can help you prepare and monitor applications, including additional follow-up paperwork that may be required for the submission to be granted.
Visas (Immigration)
UpCounsel's team of immigration attorneys handles the following needs: H-1B visas for an employee, United States H-2A, H-2B, J1, L1, O-1, B-1 or B-2 visas, green cards, employer sponsored visas, work visas for those without employer sponsorship, work permits, and visa transfers.
Author's Note:
While UpCounsel provides sample rates for services rendered, the actual cost for the contracting of services still depends on the agreement between client and the contracted lawyer. The cost for the services depends on a number of factors, including the location of the client, the experience of the lawyer, the nature of the legal services required, and the time-frame in which the services will be rendered.
UpCounselAlternatives 2020
| Online Legal Services | Best For |
| --- | --- |
| | Fast and affordable business registration and formation |
| | Affordable business formation and legal document review |
| | Dedicated business attorneys for established businesses |
| | Easy online access to legal forms and legal advice |
UpCounsel Features
UpCounsel gives users the chance to post jobs, get proposals, and hire lawyers from within its platform. The UpCounsel platform offers features that help both clients and attorneys in communicating and performing their respective duties under their engagement. Some of its benefits include:
Centralized Communications
UpCounsel helps organize communications between client and attorney. They can use their existing email service to send and receive messages, and these are all organized within the UpCounsel dashboard for easy location. Its time-tracking feature also helps lawyers keep track of the amount of time spent during client calls.
Document Management
UpCounsel offers free document storage and electronic signatures, to help clients and attorneys organize and quickly share documents with one another. The feature also comes with document version tracking, which helps parties view any changes made to the document.
Billings and Payments
Services obtained through UpCounsel get billed from within the platform itself. UpCounsel comes with time tracking features that help maintain transparency in billing clients. It also comes with invoicing and spending management, to better inform users about their spending.
Summary of UpCounsel Reviews
As of the date this article was written (March 25, 2020), I have found no up-to-date UpCounsel reviews online. If you are a past or current UpCounsel customer, leave a review to help other business owners who are deciding whether or not to use the service.
UpCounsel Frequently Asked Questions (FAQs)
How soon should I expect a proposal after posting a job?
UpCounsel's website states that clients can expect to receive custom proposals within hours from posting. However, there is no specific timeframe within which proposals may be sent. You can review the list of suggested attorneys found in the proposal tab of your UpCounsel dashboard and invite them to submit a proposal.
How do I know when an attorney sends a bid for a job that I posted?
Users will receive an email notification every time an attorney submits a bid for a job posting. The email will also contain a link to view the attorney's bid.
When are clients charged for services?
Generally, the contracted lawyer will submit an invoice through UpCounsel upon completion of the work. In some instances, the lawyer may require a portion of the legal fees before commencing with the work. The specifics of the payment agreement will be provided in the initial proposal sent to the client.
How can I pay for the services I obtained through UpCounsel?
All payments can be made from within the UpCounsel platform. It currently allows payment made through credit cards, debit cards, and automated clearing houses (ACH).
Our Top Legal Service Picks
If you are not sure if UpCounsel is right for you, this article on the Best Online Legal Services is a review of our top five choices. Our team looked at a variety of solutions and narrowed down our recommendations based on affordability, types of forms available, access to lawyers, registered agent service, and ease of use.