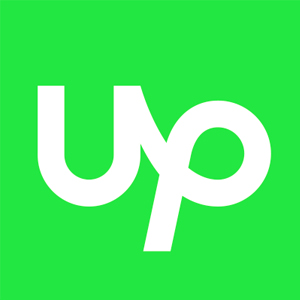 Upwork Pros and Cons
| Pros | Cons |
| --- | --- |
| Free job postings | Pricey for small businesses |
| Ease of use | Candidate filtering needs enhancements |
| Built-in payment and project tracking tools | |
Who Upwork Is Best For
Businesses looking for on-demand freelancers who can handle short to long-term projects: Upwork's talent marketplace consists of skilled freelancers, specialized experts, and professional services agencies that can handle a wide range of projects—from short and long-term assignments to complex and team-based tasks.
Upwork Pricing
With Upwork, you pay freelancers based on the rates you negotiate before contracting their services. You'll also be charged Upwork's monthly subscription fees that range from $0 to $849+ and a 3% or 10% processing fee—depending on the plan type. The main difference between the plans is access to project tracking and consolidated billing.
Basic

Plus

Business

Enterprise

Subscription Rates*
($/Month)

$0

$49.99

$849

Contact Upwork

Processing Fees**

3%

3%

10%

Contact Upwork

Free Job Postings

✓

✓

✓

✓

Verified Freelancer Work History

✓

✓

✓

✓

Payment Processing

✓

✓

✓

✓

Project Tracking Tools

N/A

✓

✓

✓

Billing and Invoicing

N/A

N/A

✓

✓

Configurable Contracting and Onboarding Process

N/A

N/A

N/A

✓
*The subscription rate is a separate payment to be made to Upwork and excludes the amount you have to pay to your freelancers/agencies for services rendered.
**Processing fees are applied to the total amount you pay to all your freelancers and agencies.
Basic
This plan is best for businesses that want to immediately start hiring on-demand freelancers and agencies for projects. It comes with unlimited freelancer proposal bids, and you can post job ads with payments made either on an hourly or fixed-price basis (wherein you pay only after completion of a project or project milestone).
Plus
This option is ideal for small to midsize businesses (SMBs) that are seeking quality freelancers and want to scale hiring quickly. Apart from having all of Basic's features, it comes with team collaboration tools, tailored search results, and a dedicated account manager who can help find and hire qualified candidates for your projects.
Business
This tier is a great fit for medium to large companies looking for a flexible solution for their growing hiring needs. What sets this apart from the Basic and Plus plans is its invoicing feature, which lets you consolidate billing statements instead of having to pay your freelancers on a per-project basis.
Moreover, this plan has all the features of Plus and the following functionalities: detailed reporting with company insights and trends and access to a dedicated team of hiring advisors who can help fast track your on-demand freelancer recruiting.
Enterprise
If you're looking for a customized solution to fit your hiring and manpower requirements, then Enterprise is the ideal plan for you. Its premium functionalities include worker classification compliance services and access to a dedicated account executive.
Upwork Alternatives 2020
| Job Posting Site | Best for |
| --- | --- |
| | Any small business wanting a free job board with applicant tracking |
| | Companies needing salaried professionals |
| | Fast-growing firms needing to cast a wide net across multiple boards for quick hiring |
| | Businesses looking to hire high-level and experienced talent |
Upwork Features
Upwork is designed to help you find and hire freelancers and specialized professionals who can handle a wide range of business projects such as writing blog posts for your company website and designing your business' web portal. Here are some of its features.
Job Postings
Upwork lets you create and post job ads that pay on an hourly or fixed-price project basis. For reference, hourly jobs are tracked and paid by the hour, while fixed-price projects are paid either all at once or by pre-determined milestones.
You also get access to a "My Jobs" dashboard that includes all of your job postings, job templates, and a list of your freelancer contracts among others. If you have co-workers who have access to your company's Upwork employer account, then you can also view their job posting activities.
Hire for Any Job Scope
You can hire freelancers and agencies to handle any type of job—provided that it can be done remotely and using a computer. Below are some of Upwork's job categories:
Accounting and consulting
Administrative support
Customer service
Data science and analytics
Design and creative projects
Engineering and architecture
Information technology (IT) and networking
Legal
Sales and marketing
Translation work
Web, mobile, and software development
Writing projects
Access to Upwork-Verified Freelancers
All of the freelancers on Upwork's talent database are verified through online skills testing, email and identity verification, and job success scoring (the score reflects the percentage of the freelancer's jobs with positive client satisfaction levels).
Freelancer Profiles with Job Success Scores
Each freelancer profile contains the candidate's job title, skills, location, standard hourly rate, job success score, and a short biography. You can also view the freelancer's work history with Upwork, earnings from previous projects, actual hours worked per job, star ratings, and client feedback.
Moreover, Upwork's artificial intelligence (AI)-powered talent matching functionality can help you easily find candidates who best fit your requirements. It even offers tailored search results with rising and top-rated freelancers.
Bid and Proposal Management
Once you have posted your jobs on Upwork, freelancers can send bids that contain their proposed rates for your project. You can review the submitted proposals, decline those that don't meet your requirements, and then contact the qualified freelancer by sending a message through "Upwork Messages" to discuss the project and/or negotiate rates.
Collaboration Tools
Each project comes with an online workspace—a secure environment for you and your freelancer—where you can send and receive files and communicate via chat, text, or video. Upwork also has a mobile app (for iOS and Android) that enables you to collaborate with your team even when you're on the go.
Time and Project Tracking
Its "Work Diary" feature (a visual recording tool) enables you to monitor your freelancers' billable time and online activities during working hours. It records snapshots of your freelancers' computer screens and captures the total number of mouse clicks, scroll actions, and keystrokes per 10-minute segments.
However, this functionality can be used only for hourly-paid projects. If you have a fixed-price project, then you and your freelancer need to discuss and agree on all milestones, deliverables, timelines, and milestone payments prior to starting work. Once you have agreed on the milestones, you can add it to Upwork through the "My Jobs" dashboard.
Billing and Payment Processing
For jobs that are hourly-paid, Upwork has an automated billing system that allows freelancers to send you invoices on a weekly basis. After you have reviewed and approved each weekly invoice, Upwork will charge you its processing and subscription fees and then release the applicable payments to your freelancers.
On the other hand, you need an escrow account to fund payments for fixed-price projects. Once the account has been set up, Upwork's licensed escrow service will release funds to freelancers based on the predetermined milestones and payment agreements.
Most Helpful Upwork Reviews
Many business owners who left positive Upwork reviews online said that it is a good platform for outsourcing their projects to on-demand talents. They also commended its hiring and job posting functionalities, adding that both are easy to use. Meanwhile, several reviewers complained that its candidate filtering solution isn't robust and that its app is glitchy.
Easy to post jobs and connect with candidates
One user who left a positive review on G2 described it as his go-to platform for finding and recruiting talents who can handle freelance projects. He also said that its job posting tools are easy to use and that its hiring process is very straightforward.
Candidate filtering tool needs improvements
One reviewer who left negative feedback on TrustRadius said that while he appreciates that it lets him access a global talent pool, its candidate filtering tools need to be enhanced. He explained that it isn't as robust as he would like it to be.
Upwork Frequently Asked Questions (FAQs)
I want to register to Upwork as an employer. Do I need to pay a fee?
No, you don't have to pay a registration fee since signing up for an employer account is free.
How does hiring on the platform work?
After you have posted your job ad on Upwork, you can utilize either its search functionality to look for qualified candidates or wait for freelancers to submit bids that contain their proposed manpower cost for your project. Once you have received the proposals and checked the candidates' profiles on Upwork, you can then schedule an interview with shortlisted applicants and finalize a contract with the best freelancer for the role.
How can I pay my freelancers?
You can pay your freelancers through Upwork using PayPal and credit cards such as American Express, Discover, Mastercard, and Visa.
Our Top Job Board Sites Software Picks
If you aren't sure if Upwork is right for you, then this article on the best job posting sites for employers is a review of our top choices. Our team looked at several job boards and identified which job posting sites are ideal, given differing hiring needs.