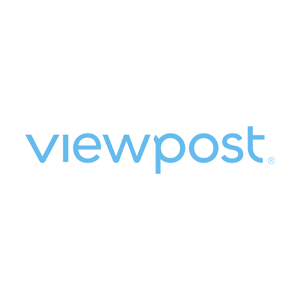 Viewpost is a cloud-based invoicing solution that lets you create invoices, send and receive payments, and more. Its features include customizable invoices, accounting integration, and cash flow management. Its monthly subscription fees start at $14.99 for each account, and it's best for companies sending payments, such as independent contractors, distributors, and franchisees, and companies receiving payments like residential service providers, property managers, and transporters.
Viewpost Pros and Cons
| Pros | Cons |
| --- | --- |
| Simple and easy to use | Customer support is not good |
| Can send invoices via mobile | Does not offer a free plan |
| Quick enrollment process | |
Who Viewpost Is Best For
Companies sending payments like independent contractors, distributors, and franchisees: Viewpost caters to the aforementioned businesses, enabling them to send electronic payments, print checks, get approval signatures, and more.
Companies receiving payments like residential service providers, property managers, and transporters: It lets you receive payments either through electronic or paper checks from your clients.
Viewpost Pricing
Viewpost has a monthly subscription fee of $14.99 per month plus some transaction fees. Business users can send electronic payments for 50 cents per transaction and $1 per paper check while consumers can send electronic payments for free. Transaction fees for receiving payments and other services are discussed below.

| Sending Payments | As a Business | As a Consumer |
| --- | --- | --- |
| Via Electronic Payment | 50 cents per payment | Free |
| Via Paper Check | $1 per check | N/A |
| Receiving Payments | From Businesses | From Consumers |
| Via Electronic Payment | Free | Depends on the total amount of money received* |
| Via Credit Card | Merchant fees apply | Merchant fees apply |
*The image below shows Viewpost's transaction fees for certain total payment amounts.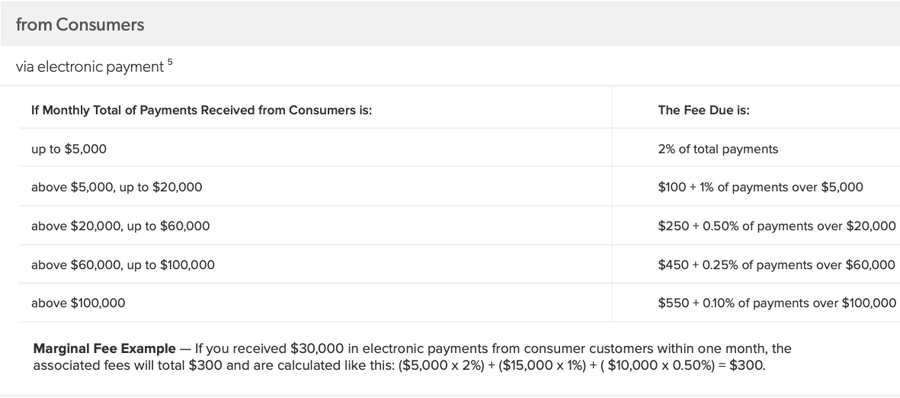 Other services include Viewpost express dynamic discounting ($30 of savings), automated Viewpost inbox (free for one to 10 clients to bill and 35 cents per bill for 11 to 100 clients), bank returned item ($10), and pulled check ($9.50).
Please note that monthly subscription fees are billed through credit cards automatically while merchant fees are collected through your merchant account.
Monthly Subscription
Companies receiving payments can create, send, and track invoices, receive electronic deposits or credit card payments from business users or consumers, offer discounts to encourage early payments, and build unlimited customer connections.
On the other hand, companies sending payments can send electronic payments, receive electronic invoices, add incoming bills to a Viewpost inbox, offer early payments in exchange for invoice discounts, and make unlimited supplier connections.
Viewpost Alternatives 2020
| Invoice Software | Best for |
| --- | --- |
| | Businesses that want professional invoices and put repeat customers on recurring payments |
| | Businesses that use Zoho apps currently |
| | Businesses that need an expense management tool that makes it easy to track reimbursements |
| | Small businesses looking for a free accounts payable digital payment solution that can sync to QuickBooks |
Viewpost Features
Once enrolled, you will be given access to Viewpost's features that will help you streamline and optimize payments and manage your cash flow. Here's a list of Viewpost's essential features to help you gauge whether or not it's the right invoicing software for you.
Invoicing
Viewpost's invoicing solution gives you access to essential features, such as custom branding, recurring invoices, early payment, status tracking, data integration, and a mobile app. You can also customize your invoices by adding your logo and your customers' name and including additional notes for payment instructions.
Sending Payments
By linking your bank account to your Viewpost account, you can send electronic funds to your clients. You can also alert suppliers of paid invoices, add remittance data to your payment, transcribe invoices into your Viewpost account using your accounts payable (A/P) inbox email, and more.
Receiving Payments
Your Viewpost-enabled domestic bank allows you to receive payments in as little as one business day. You can track your open invoices, enter your bank account in a single place, and streamline paper checks, among others.
Dynamic Discounting
Customers can enable and offer discount terms to entice early payments from their suppliers. On-demand payments can then be processed instantly.
Summary of Viewpost Reviews
As of the date that this article was written (May 6, 2020), there are not many up-to-date Viewpost reviews online. However, some satisfied users mentioned that it is simple and easy to use and that it allows them to send invoices on their mobile devices; whereas a few said that its customer support is not that helpful.
Viewpost Frequently Asked Questions (FAQs)
How much time does Viewpost take to transfer payment?
Payment can be transferred within one to five business days, depending on whether or not your supplier has a Viewpost account.
Do I need to commit to a long-term contract?
No, you don't. You can cancel at any time without any cancellation fees.
How do I enroll as a business user?
To enroll in Viewpost as a business user, you must be referred by one of your contact customers or vendors. An email invitation will then be sent to your link for quick enrolment.
Our Top Invoicing Software Providers
In case you still aren't sure if Viewpost is right for you, then this article on the best invoicing software is a review of our top choices. In this guide, we looked at a variety of solutions and narrowed our recommendations down based on the ability to create recurring invoices, send automatic payment reminders, and run an A/R aging report to stay on top of open invoices.