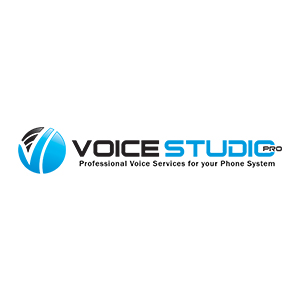 VoiceStudio Pro provides professional audio recordings and background music for hosted private branch exchange (PBX) and business phone systems. Its services include greetings, voice prompts, and message on hold. Prices start at $99 per 250 words, and it's best for organizations that need professional greetings that are phone system-ready within 24 hours.
VoiceStudio Pro Pros & Cons
| Pros | Cons |
| --- | --- |
| 24-hour turnaround service | Limited voice talent options |
| Redoes recordings if you are unsatisfied | Expensive base fees compared to other providers |
| Works with Twilio, Grasshopper, and other hosted phone systems | Unable to select voice actors for rush orders |
Who VoiceStudio Pro Is Best For
Organizations that need professional greetings that are phone system-ready within 24 hours: VoiceStudio Pro offers a rush delivery option that allows you to receive your audio recordings within 24 hours. This option also helps you ensure that you can respond to emergencies affecting your business operations.
VoiceStudio Pro Pricing
VoiceStudio Pro's pricing for professional voice recordings costs $99 per 250 words. Optional add-ons include rush delivery for a 24-hour turnaround ($15), background music ($49), and concierge service ($99).
| Services | Pricing | | |
| --- | --- | --- | --- |
| Professional Voice Recordings | $99 per 250 words | | |
| Rush Delivery Fee | $15 | | |
| Music Add-on | $49 | | |
| Concierge Service | $99 | | |
VoiceStudio Pro Alternatives 2020
| Professional Voicemail Greeting Providers | Best For | Pricing |
| --- | --- | --- |
| | Businesses looking for experienced voice actors to provide clear audio recordings | Starts at $50 for 75 words |
| | Organizations looking for flexibility in price and talent worldwide | Starts at $5 |
| | Companies that need a full VoIP plan with professional recording services as a feature | Starts at $19.95/user/month |
| | Companies doing a lot of business overseas that need an international calling plan | Starts at $25/user/month |
| | Businesses that want to make use of personal devices in a business setting | Starts at $25/user/month + $75 per voicemail greeting |
VoiceStudio Pro Services
VoiceStudio Pro has a team of professional and experienced voice actors who produce audio recordings for business phone systems. Below are some of VoiceStudio Pro's most essential services.
Professional voice talent: VoiceStudio Pro's voice actors have over 75 years of combined experience in recording voice-overs in English, French, and Spanish. Audio examples are available to aid users in selecting a voice talent.
Greetings for phone systems: Get a professional greeting, voice prompt, or message on hold for your phone system, voicemail, interactive voice response (IVR), or cloud-based PBX. You may integrate it with third-party systems, such as Grasshopper, Intermedia, TeliPlus, Twilio, and VoIP.ms.
Sample scripts: Check sample scripts for automated attendants to help you plan your own phone system's tree. You will be required to paste your own scripts when ordering, and the system will also count the number of words and determine your recording's rate.
Background music: VoiceStudio Pro's background music library includes acoustic, children, Christmas, classical, electronic, holiday generic, jazz, rock, and technology. You can play its example on the order page.
Concierge service: For an extra fee, VoiceStudio Pro may assist you from the start of the process, including planning your greetings and integrating recordings to your phone system.
Summary of VoiceStudio Pro Reviews
As of the date this article was written (May 28, 2020), there are no up-to-date VoiceStudio Pro reviews online. If you are a past or current VoiceStudio Pro customer, leave a review to help others decide whether or not to use the service.
VoiceStudio Pro Frequently Asked Questions (FAQs)
Why can't I choose my voice talent when ordering with rush delivery?
VoiceStudio Pro cannot guarantee the availability of all of its voice actors for rush delivery scripts. It does, however, assign scripts to those who are available to ensure that it will be delivered within your preferred time frame.
What are VoiceStudio Pro's file formats?
VoiceStudio Pro provides the final scripts in MP3 format, which is commonly compatible with every hosted phone system. It can also deliver your recordings in other file formats—such as WAV and M4A—at various bit rates to ensure it matches your phone system's requirements.
What type of payment does VoiceStudio Pro accept?
VoiceStudio Pro accepts payments made through credit cards. It utilizes Pivotal Payments to fulfill payments and does not store any credit card information that its users provide.
Bottom Line
If you aren't sure if VoiceStudio Pro is right for you, this article on the best professional voicemail greeting providers is a review of our top choices. Our team looked at a variety of solutions and narrowed our recommendations down based on price, ease of use, quality of the recording, and features, like selection and vocal variety and scriptwriting services.