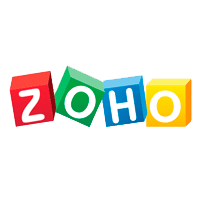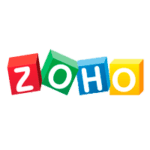 Zoho CRM is a customer relationship management (CRM) software that allows users to manage their contacts and automate their email marketing and lead generation activities. It eliminates manual repetitive tasks and streamline lead nurturing processes. Its pricing ranges from $0-$100, and it is best for businesses that use other Zoho products.
Zoho CRM Pros and Cons
| Pros | Cons |
| --- | --- |
| Straightforward interface and navigation | Sometimes buggy with larger contact lists |
| Flexible for many different business types | Customer service quality can be improved |
| Integrates with Zoho's larger productivity and business software suite | |
| Includes a free plan | |
Who Zoho CRM is Best For
Businesses that use Zoho's ecosystem of products: Zoho CRM is part of Zoho's extensive pool of software ecosystem which enables you to integrate your data with other business tools such as Zoho Books (accounting), Zoho People (HR and recruiting), Zoho Inventory (inventory management), Zoho Sites (website builder), and more.
Users who manage a large volume of contacts: Zoho CRM provides extensive contact profiling tools allowing you to maintain a detailed contact directory as well as relevant information to segment them based on their purchasing decisions. The contact management tools also enable you to get real-time insights about your customers and connect with them across different channels.
Zoho CRM Pricing
Zoho CRM's pricing includes a free option and four paid plans ranging from $0 to $100 per user per month when billed on an annual basis. The main difference between the plans is access to premium features such as built-in analytics, visual CRM view, multi-user portals, and email sentiment analysis.
Plans

Monthly Pricing
($/User/Month)

Annual Pricing
($/User/Month)

Free Edition

$0

$0

Standard

$18

$12

Professional

$30

$20

Enterprise

$45

$25

Ultimate

N/A

$100

Last updated on 03/31/20
*Annual plans are paid in full at the beginning of the billing cycle. If you purchase an annual plan, you will get a 20% discount.
Zoho CRM's four paid subscription plans are designed to cater to various kinds of users giving you the option to choose which one best fits the requirements of your business. You can also sign up for the free edition or get a free trial to evaluate the performance of the software before paying for a subscription.
Free Plan
The Free plan provides you with three free users and essential tools like lead and document management as well as access to mobile apps. This is ideal for solopreneurs or freelancers and individuals working from home.
Standard Plan
The Standard plan builds on the features of the free plan and includes additions such as scoring rules (lets you assign positive and negative points to leads and customers for better prioritization), email insights, workflow conversion, tags and groups, web forms, custom and unique fields, as well as custom reports and dashboards.
Professional Plan
The Professional plan further builds on the features included in the Standard plan and includes additions such as real-time notifications on SalesSignals (notifications on sales cycle activities), Blueprint Process Management (lets you manage every stage of your offline and online business process), email integration, web-to-case forms, inventory management, validation rules, and Google Ads integration.
Enterprise
According to Zoho CRM's website, the Enterprise plan is said to be its most popular plan. The Enterprise plan builds on the features of the Professional plan and includes additions such as Zia Voice-Conversational AI (on-demand sales analytics and CRM data bot via call and chat), SalesInbox (enables you to prioritize revenue-generating emails and reorganize your inbox), built-in analytics, multi-user portals, custom modules and buttons, and territory management.
Author's Note:
I signed up for Zoho CRM's 14-day free trial of its Enterprise plan. Upon logging in to the dashboard, the first thing that I noticed is the list of open tasks, including status, due date, level of prioritization, and activity owner. I also found the "Amount by Stage" chart remarkable. It lists down your whole pipeline process and quantifies the value that your business gets per workflow stage.
I tried adding a lead and was prompted to key in all the main contact and important details of an individual—from title, to where the lead was discovered or sourced, company, website, and more.
Overall, I find the interface easy to understand. It is very straightforward and terms are provided in layman terms enabling even those with zero CRM knowledge to easily use the platform.
Ultimate
The Ultimate plan is Zoho CRM's most advanced plan. It builds on Enterprise plan's features and includes additions such as advanced customization, automation suggestions, data enrichment, enhanced storage, and email sentiments.
Zoho CRM Alternatives 2020
Real Estate CRM

Best For

Agents who need an affordable and comprehensive industry-specific CRM

Agents who want advanced customization and sales reporting with a free starting price

Agents seeking a CRM with a highly visual pipeline for lead tracking

Agents who need advanced real estate marketing technology like video email

Agents who need an easy-to-use, intuitive real estate CRM interface

Large teams looking for real estate-focused, lead management features and third-party integrations

Last updated on 04/29/2020
Zoho CRM Features
Zoho CRM provides you with an extensive set of CRM tools designed specifically to help you manage your customer relationships better and continuously grow your business. Below are its key features.
Sales Force Automation
Zoho CRM enables you to automate routine sales, marketing, and support functions that consume considerable work hours, giving you more time to concentrate on your customers. Through its sales force automation feature, you can create optimized workflows that help you reduce manual data entry, eliminate redundancies, and speed up your overall process.
Sales force automation includes lead management that allows you to capture leads, automate lead scoring, identify leads that will convert, and follow up with detailed contact information. Its deal management feature lets you close more deals in less time, track what stage your deals are currently in, and tap every opportunity at the most optimal moment. Its contact management feature gives real-time insights about your customers and connects them across channels.
Predictive Sales via Zia
Zoho CRM has a bot called Zia—an artificial intelligence (AI) assistant who can help you manage your CRM data. Zia can fetch the information you want, take notes, predict the future of a sale, detect anomalies, and automate tasks.
Zia can predict the likelihood of success for every lead and deal in your CRM, making life simpler for your team. It helps you with many of your everyday activities, from taking notes to computing sales numbers. It also observes your day-to-day sales activities and identifies patterns such as combinations of actions based on repetition.
Customer Segmentation and Lead Nurturing
Zoho CRM lets you segment customers based on their region, requirements, lead source, and even their level of responsiveness to you. With segmentation, you can send campaigns that are tailor-made to fit your audience and assign sales reps with the right specializations for the job.
It also provides lead nurturing tools to help your sales reps build a lead's interest so that they can make a purchase. Zoho CRM makes sure you stay up-to-date with every lead interaction and automates your sales process so you can build lasting relationships.
Process Management
Zoho CRM's process management feature lets your sales reps know what to do at each stage in their pipeline. It provides you with Blueprint, a tool that lets your sales team find out the next best move to make at any given moment, eventually defining your sales process for your whole team to follow.
It offers a process sales builder that lets you bring your offline sales processes into your CRM and make sure all your sales reps follow it at every turn. This tool also lets you set up rules in your CRM based on your real-life sales processes. You can assign leads to the right sales rep, approve discounts, and validate sales data based on your criteria.
Most Helpful Zoho CRM Reviews
Most Zoho CRM reviews found online are positive. Users highlighted its helpful sales insights and organized data presentation. They also commended its easy-to-understand dashboard interface. Concerns raised by users include occasional bugs. They also said that the quality of customer service can be improved.
Most helpful positive review: Provides helpful insights to sales teams; easy to use
One user who gave Zoho CRM a positive review said that the platform is very versatile when collecting data of interest for your sales team, giving you accurate visibility of the entire sales process. The data is well organized to be analyzed and lets you create strategies based on these resulting in an increase in productivity and efficiency for our company. He also noted that its user interface is intuitive and easy to use with a modern look that is easy to digest.
Most helpful negative review: Needs to have a more agile and reliable support team
One user who gave Zoho CRM a negative review said that the support team is not the best and said that he would love this software to have a more agile and comprehensive support team to help users solve their problems or doubts.
Zoho CRM Frequently Asked Questions (FAQs)
What kind of AI tasks can Zia do?
Zia can help you perform various tasks such as generate reports, analyze spreadsheets, evaluate customer sentiments, and work on tickets.
Does Zoho CRM offer industry-specific services?
Yes. Zoho CRM provides industry-specific CRM for customer experience, financial services, life sciences, retail, real estate, and insurance.
What languages does Zoho CRM support?
Zoho CRM supports 25 languages: English (US), English (UK), Finnish, French, German, Spanish, Italian, Japanese, Korean, Portuguese (Portugal), Portuguese (Brazil), Russian, Swedish, Thai, Chinese (China), Chinese (Taiwan), Danish, Dutch (Netherlands), Polish, Hungarian, Turkish, Vietnamese, Hindi, Croatian, and Czech.
Is my data safe with Zoho CRM?
Yes. Zoho CRM's facilities feature 24/7/365 security with video monitoring, biometric access, and advanced fire, flood, and theft monitoring systems. Its network security system employs the latest encryption and intrusion detection and prevention technologies.
Our Top CRM Provider Picks
If you are not sure if Zoho CRM is right for you, this article on the 10 Best CRMs for Small Business is a review of our top choices. Our team looked at a variety of solutions and narrowed down our recommendations based on price, features, and ease of use.